Bulk SMS Software for Pocket PC

Bulk SMS Software for Pocket PC
Price: $45
Pocket PC to Mobile Text Messaging Software allow users to send text messages from Windows based Pocket PC mobile phones or PDA devices to other mobile phones. Mass messaging software enable sending bulk messages to individual or group of any country supporting on any network.
Phone messaging tool gives you the freedom of sending unlimited SMS at the time you are far away or travelling and want to remain in touch with your family, friends, business employees etc. Bulk SMS utility allow users to send text messages like personalized SMS, job alerts, campaign meeting, market news, event alert and notifications, season greetings, invitation, promotional campaigns, contacting employees etc from Windows based Pocket PC/PDA mobile devices to other mobile phones.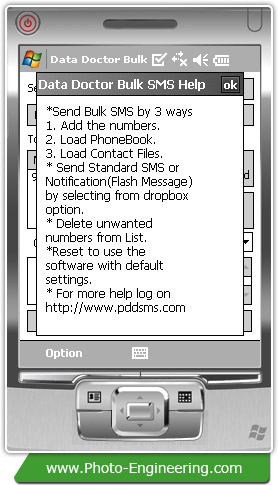 Software Features :
Bulk SMS messaging software is a helpful utility for home, business, public sector, friends etc.

Quickly send unlimited text messages from Pocket PC to other mobile devices in real time.

Recipient contact numbers can be manually added or loaded manually from the phone book contact list or memory.

Support storage of unlimited contact numbers and works without any internet connection.

Both national and international mobile networks are supported to operate bulk SMS software.